News/Blog
WorkWear SA : Corporate Clothing
- 2011-09-26
At Workwear SA we cover the entire Range of Corporate Wear Solutions. A Companies Corporate Identity is a crucial aspect in terms of a Professional Look. It is simple to get that Professional look as well as getting your Companies name out there by simply Branding Your Corporate Clothing. We supply an extensive Range of Corporate Clothin...
more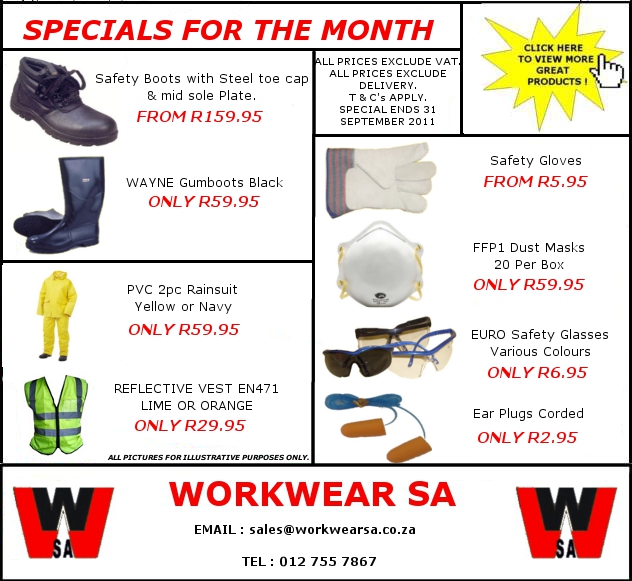 WorkWear SA Specials
- 2011-08-28
Have a look at our Great Specials below, We supply Qaulity Safety Wear, WorkWear & Corporate Clothing at Competeive Prices. We also stock overalls, road safety, First aid Kits, Welding Clothing, Hard Hats, Harnesses, Reflective Clothing and much more. For Enquiries & Orders please Contact Us ! We Also Supply The Following Brand...
more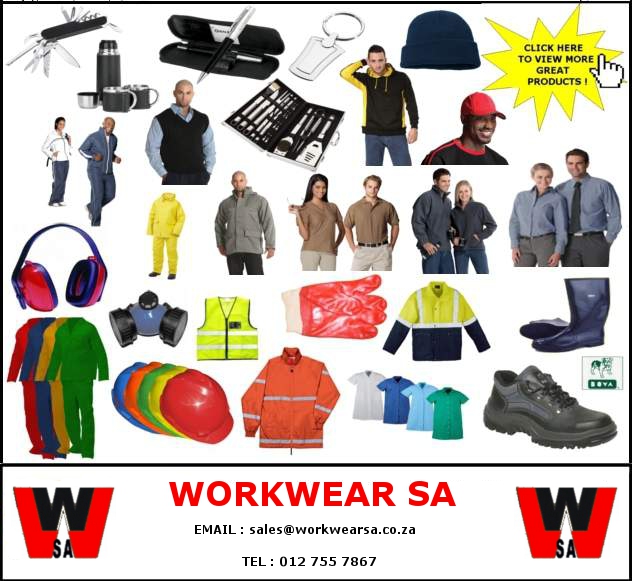 Workwear SA Introduction
- 2011-06-29
Welcome To WorkWear SA, Leading Retailers in all types of Overalls, Safety Wear, WorkWear, Corporate Wear, Corporate Gifts, Branding & much more, Kindly See below our Product Range, Be on the look out for our Newsletter Specials, For more info kindly contact us, or visit www.workwearsa.co.za We Also Supply The Following Brands : S...
more